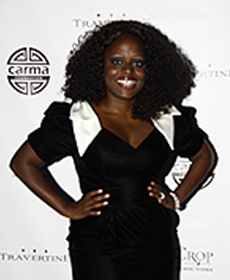 Melky Jean is the daughter of Haitian immigrants who migrated to Brooklyn, New York. Pastor Jean, her father along with his young wife Yolande, left Haiti in search of political and economic freedom.
Melky is the fourth of five children. She has three older brothers, Wyclef, Samuel, & Sedeck and a younger sister, Rose. Her father, a minister and missionary had instilled in his children the importance of living righteously and giving back.
Melky exhibited musical talent at a very young age and the family recognized that she was gifted and had her own mind. At the age of five, she was directing the church choir and singing alongside her talented brother, Wyclef in the family band. Everyone knew that little Ms. Melky was born to be on stage.
Melky attended the Newark School of the performing Arts where she graduated at the top of her class. She enrolled in Rutgers School of Music but was disillusioned with the Music program and decided to leave, shortly after she landed a recording contract with MCA.
Melky's credits include: a Grammy Nomination; she was featured on countless soundtracks; was the voice of Sanaa Lathan in disappearing Acts; she was featured on Carlos Santana, The Shymans Album; she wrote songs for Sinead O Connor and Regina Belle. The Rolling Stones Magazine once named her "as one of the most influential underground artists".
Melky migrated to Miami after witnessing the manner in which the Haitians refugees were being treated; she decided to become an advocate for Haitian TPS and Haitian rights. In 2007 Melky started her own organization, the Carma Foundation dedicated to improving the lives of Haitian women and children. Since its inception The Carma Foundation has impacted the lives of tens of thousands of Haitian women and Children and plans to reach to millions.
Melky's Philosophy is simple but rebellious like her name sake. She realized that bringing aide to Haiti was not stimulating that area so she decided to start what she calls her "Haiti Stimulus Package". Whenever her organization brings food to her orphans and the villagers, she buys from the local merchants thus stimulating the local economy. She also believes that when you empower a woman you empower a village.
Melky is also the Executive Producer of the care for Haiti album project which includes some of the top entertainers in the business. Quality singers like Patti La Belle, Sean Paul, and of course her brother Wyclef Jean who lend their talent in support of Haiti. All 100 percent of the proceeds from this project will be donated to The Care Foundation, Yele Haiti and Carma Foundation. For more information, visit carmafoundation.org