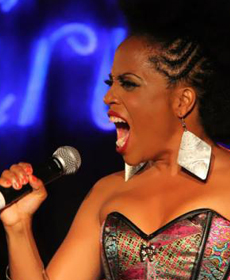 Singer-Songwriter, Rhonda Ross is an International Social-Artist, who explores questions of race, gender, power and spirituality through her art. Described as "Neo-Soul with a strong pull toward Jazz", Rhonda's "Gownfolk" music is wholehearted, passionate and wildly intelligent. She is one of those rare artists today using her music to examine her relationship to the environment she lives in. Her lyrics explore life's most important issues  – from racism to sexism to marginalization of all kinds, to the need for self-love and spirituality. Through all of it, Rhonda asks "In the midst of THIS, how can we still be free? 
As the only child of Diana Ross and Motown Founder Berry Gordy, it has become evident that Rhonda not only has the talent, but the significance to carry on her parents' legacy, all the while establishing her own unique artistic destination. Rhonda's original composition, "Nobody's Business" is a groovy, bass-led reminder that "your joy comes from the inside and that it's nobody else's job to make you happy" and "Summer Day"  is an upbeat realization that even after the harshest winter, the sun will re-emerge and "the buds of hope can still bloom". 
Rhonda's mission on the stage is the same as it is off — to encourage, empower, and inspire audiences to be their best selves. She communicates this message through her philanthropic work as well as her music. Rhonda sits on the boards of several not-for-profit organizations that focus on the education and well-being of children. Hearts of Gold, Figure Skating In Harlem, and Motown EDU. She regularly gives her time, talent and dollars to other organizations with similar missions. Through Rhonda's creative and philanthropic expression, the legendary Ross/Gordy influence continues to live on and expand. Rhonda's live performances and speaking engagements will thoroughly entertain you and move you to the point of tears – all while inspiring you to believe that you can do or be anything!
Check out www.TheRhondaRoss.com to discover where Rhonda will be performing and speaking next.
Website: www.TheRhondaRoss.com
Twitter: @TheRhondaRoss
Facebook: /TheRhondaRoss